Distinguished Lecture by Professor Andrea Manica: "Squaring the circle: a coherent reconstruction of the past from multiple lines of evidence"
Distinguished Lecturer Seminar Series
Datum:

30.01.2020

Uhrzeit:

13:00 - 14:30

Vortragende(r):

Professor Andrea Manica

Ort:

MPI SHH Jena

Raum:

Villa V14

Gastgeber:

Pan African Evolution Research Group

Kontakt:

hallett@shh.mpg.de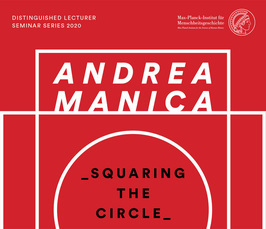 Reconstructing the past is a challenging endeavour based on sparse data. Due to the limitation of the data, reconstructions based on different lines of evidence are often inconsistent or difficult to compare. In this talk, Professor Manica will discuss advances on reconstructing the past of our species as well as other animals by quantitatively combining climatic reconstructions, ecological and palaeontological data, as well as genetics from both modern and ancient genomes. By formally bringing together these lines of evidence, it is possible to work towards a coherent reconstruction of the past, as well as highlight periods of time and geographic regions where mismatches cannot be reconciled, and thus provide an agenda for future research.