International Application of Archaeological Science
Researchers in the Department of Archaeology are pioneering new frontiers, both in the laboratory and in the field. Their research agendas cover several fields of science and, geographically, span across six continents. The discoveries that these scholars are making help to clarify some of the least understood aspects of humanity's past. However, none of these scientific pursuits would be possible without a strong network of external collaborations. The collaborative network connects research institutes and scientists in Asia and Africa to Europe and beyond. This network is a necessary part of the department's success.
While many of the research institutes involved in these collaborations are highly funded world-class facilities, not every research institute has equal access to funding. It is an express goal of all of the archaeological science specialists in the department to help spread knowledge, especially in areas where the means of accessing such knowledge may be limited. The annual International Applications of Archaeological Science training course is one of the ways these scholars are contributing to this goal and acknowledging the fact that their success rests on international collaborations.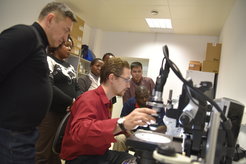 It is an unavoidable reality of the modern world that access to education is unevenly distributed. The social dichotomy between developed and pre-developed nations is pronounced, and academia reflects these social inequalities. Some of the brightest and most motivated young scientists are held down by these barriers. Many of the archaeologists and biologists working at the MPI for the Science of Human History have found ways to assist scholars who may be interested in learning new methods in the archaeological sciences but do not have the means to participate in these studies firsthand.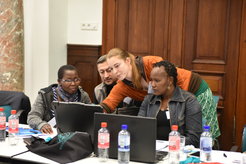 In the Department of Archaeology, scholars from around the world are assembled for collaborative workshops and training is provided in the field. In addition, all members of the department pull together their efforts for two weeks a year in order to provide training to a small group of motivated international scholars. The training session provides a crash-course in modern methods of the archaeological sciences. The goal is not just to train the participants in the course, but to send skills and knowledge back to regional institutes and hopefully provide long-term opportunities for researchers as well as spark enthusiasm for the exploration and application of diverse archaeological science methods.
Training Course 2018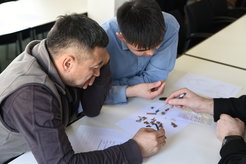 The department hosted an intensive, one-week workshop from the 13th to the 17th of March, 2018. The course was specifically designed for early career researchers from regions where archaeological science is less developed. More than 15 members of the department's scientific community, including technicians, group leaders, postdoctoral scholars, and graduate students, teach methods. The individual training sessions included both hands-on experience in the lab and lectures, as well as group discussions. The instructors provided training and tutorials in a series of archaeological science approaches that have international applicability.
The methods that were covered during the 2018 session, included quantitative lithics analyses, Geographical Information Systems approaches, proteomics, ZooMS, stable isotope analysis, archaeobotany, archaeozoology, chronological methods and models, and statistical analysis. Eight scholars were invited to participate in the session, coming from five different countries. The course and subsequent feedback laid a strong foundation for the 2019 course, and was a rewarding experience for both the participants and the instructors.
The 2018 participants list: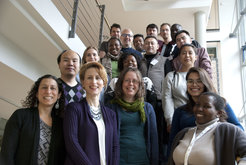 | | | |
| --- | --- | --- |
| Farhod Maksudov | Institute for Archaeological Research, Tashkent | Uzbekistan |
| Malavika Chatterjee | Deccan College | India |
| Ruokuonuo Rose Yhome | Deccan College | India |
| Ruth Tibesasa | University of Pretoria | South Africa |
| Kinyanjui Rahab Njuhi | National Museum of Kenya | Kenya |
| Ndiema Emmanuel Kimuma | National Museum of Kenya | Kenya |
| Ogola Christine Adhiambo | National Museum of Kenya | Kenya |
| Tumurbaatar Tuvshinjargal | National Museum of Mongolia, Ulaanbaatar | Mongolia |
The program for the 2018 Training Course is accessible here.
Training Course 2019
In response to the overwhelmingly positive feedback in March of 2018, the Department of Archaeology has decided to run the international training course for a second consecutive year – with hope for many more in the future. The course will be held at the department's research and laboratory facilities in Jena, Germany. Participation in the course is determined based on an applicant's qualifications and the availability of funds in their home country. Note that spaces are highly limited and only select applications will be funded.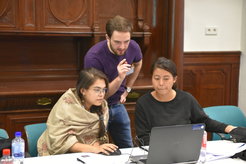 The event will be held from 20 – 31 or March. The course will cover a variety of methods, including quantitative lithics analyses, Geographical Information Systems approaches, ancient proteomics, ZooMS, stable isotope analysis, both micro and macroscopic methods in archaeobotany, morphological identifications in archaeozoology, human osteology, chronological methods and models, and statistical analysis. This course is designed for junior researchers with archaeological experience wishing to implement new methodologies within their home countries and expand the knowledge base within their institutions.
Courses will be in English. Flights, visas, travel by train or bus to/from Jena, accommodation, and course materials are provided. All software used will be open access enabling attendees to apply learned skills without constraint. Course instructors will focus on methods that can feasibly be implemented outside well-funded laboratories and will seek to teach proper sampling methods.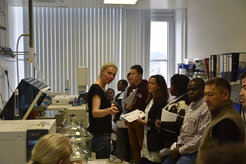 We will consider applications from all qualified candidates; however, strong preference will be given to scholars from countries with poorly-funded or under-resourced archaeological or culture heritage programs. Interested early career scholars with a PhD or equivalent and fluency in English are encouraged to apply.
The application deadline is November 21, 2018. Applicants should send a short (no more than 250 word) abstract describing their research interests as well as a full academic CV. Candidates will be selected based on their past scholarly performance, overlapping research interests with scholars at the MPI Science of Human History. Bursary winners will be selected based on the general availability of funds in their country.
Please email the short abstract and the CV together to the following address by the deadline: training.course@shh.mpg.de.