Events of the Sustainability Commission
Can Vegan Food be Tasty? Join the Vegan and Vegetarian Lunch! | November 11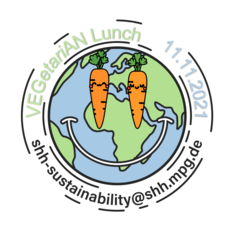 Lets find out together! Bring your homemade vegan or vegetarian food to share with others.
When? Thursday, 11 November 2021
Where? Library area
Please sign up by sending an e-mail to hannawald@shh...
Let us know which dish you want to bring. You can also send us your recipe and we will share it.
We are happy to see you on 11 November and we are very excited to taste your homemade dishes!
---
Earth Week | 19 - 23 April 2021
Earth day is celebrated every year on 22 April in over 175 countries of the world to strengthen the appreciation for our natural environment and to encourage people to make active progress to restore our earth. On the occasion of this year's earth day the sustainability group of the MPI-SHH is planning different actions for you in the week of 19 – 23 April. Join in and help raising the awareness of our unique and fantastic planet!
Our Programme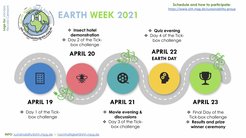 ---
April 19 - Day 1 - Start of the tick box challenge
How many sustainable actions can you do in a week? For each day, tick off every time you do an action. We are excited who will have collected the most points at the end of the week! You can also win small prices, make sure you join in!
Take part in the challenge!
---
20 April - Day 2 - Build your own insect hotel
The natural habitats of insects are becoming increasingly scarce due to intensive human intervention in the environment. An insect hotel can provide shelter and also operates as a nesting aid and seasonal residence for various types of insects. We have made an introductory video to show you how to make simple homemade insect hotel.
How to Make Your Own Insect Hotel
Video download: How to make your own insect hotel
Make your own insect hotel for your backyard and send us your photos! We are very excited to see them and show them here on our website!
---
21 April - Day 3 - Movie evening and discussion
8 - 9pm
Join in to watch short documentary movies about sustainability and discuss them with us! We are happy to meet you on Wednesday evening at 8 pm!
Zoom link will be send out to all institute members in the morning.
You can already have a look at our movies:
---
22 April: Earth Day - Day 4 – Quiz evening
8 - 9.30pm
We prepared a cool and interesting quiz about our planet and environment and we invite everyone to participate! You can also win small prices. You can simply take part without registering in advance, just join us on zoom on Thursday evening!
Check out our Earth Quiz!
---
23 April - Day 5 – Tick box challenge and prize winner ceremony
Today is the last day of the tick box challenge, you can still tick off the boxes today until 3 pm. At 4 pm we will announce the winners during a short award ceremony.
Results and Winners of the Challenge
---
Further actions
Collective book order
Are you interested in buying the book "Building a Better World in Your Backyard"? Let us know by 25 April if you would like to order one (or even more) and we will gather them into one order.