Department of Archaeology Facilities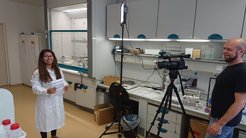 The Department of Archaeology has developed eight multi-function laboratory facilities for research in the archaeological sciences, with a strong focus on the identification of diagnostic biomolecules and the stable isotope analysis of bulk samples and specific compounds. Our research examines the organic and inorganic components of a range of materials, including bone, teeth, dental calculus, ceramics, charred and uncharred plant remains, coprolites, residues, and sediments. Our laboratories possess state-of-the-art equipment and are already amongst the leading laboratories globally for biomolecular and environmental archaeology. They are managed by our Laboratory Manager, Dr. Jana Ilgner (Ilgner@shh.mpg.de), together with numerous group leaders who jointly supervise a team of technicians and student helpers. We are committed to research and learning and have produced Open Access papers, videos, and interviews, as well as holding workshops, with the aim of widely circulating our methods and techniques so that as many researchers as possible from around the world can benefit.
The main laboratory facilities are as follows:
The Computational Archaeology Lab: The Computational Archaeology Lab produces and supports the production of new open-source software for historical and archaeological research. Software is primarily developed using the R programming language and the Shiny R package is employed to build user-friendly interfaces. Bayesian modelling is extensively employed and applications include, spatiotemporal modelling of a variety of past phenomena from uncertain data and the probabilistic reconstruction of past human lifeways, productive activities, and paleo-environmental/climatic conditions from different types of proxy data. The lab is also developing different machine learning tools (e.g., Bayesian model selection, Bayesian Networks) to study historical causation. Artificial intelligence research is being pursued to collect expert opinions, assess quality of expert statements, and to compose historical narratives.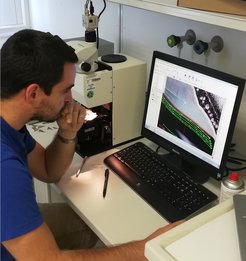 Stable Isotope Laboratories: These laboratories facilitate dedicated, state-of-the art stable isotope analysis of archaeological materials. The laboratories ConFlo IV Thermo® Scientific Isotope Mass Ratio Spectrometer (IRMS) coupled with a Thermo Scientific FLASH 2000 HT Elemental Analyzer for organic isotopic analysis, and a Gasbench II connected to a Thermo Scientific DELTA V IRMS for inorganic isotopic analysis. A Gas Chromatography-Mass Spectrometer (GC-MS) and an Isoprime® Gas Chromatography-Combustion-Isotope Ratio Mass Spectrometer (GC-C-IRMS) enable analysis of leaf wax single compounds extracted from sediments and organic residues from archaeological ceramics.
We are also equipped for the isotopic analysis of water, Micromill sampling, and Fourier-Transform Infrared Spectroscopy (FTIR-ATR) on our Bruker® VERTEX 70v FTIR Spectrometer. Strontium isotope analysis is carried out as part of a close partnership with the University of Cape Town, meaning that this set of laboratories can coordinate all of the major forms of archaeological stable isotope analysis.
Click here to watch a demonstration of the sampling and pretreatment of tooth enamel for stable carbon and oxygen isotope analysis.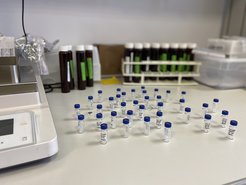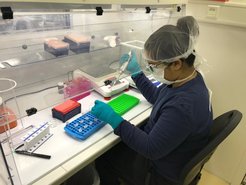 Palaeoproteomics Laboratories: These facilities support the analysis of ancient proteins from diverse archaeological remains, including bone, dental calculus (mineralised tooth tartar), and ceramic and tool residues. The laboratories include state-of-the-art clean-rooms, with separate areas for subsampling and protein extractions. Our laboratories follow protocols proven to reduce contamination, including use of dedicated clean-room clothing and equipment, separation of archaeological and modern samples and extraction steps, and employment of dead air hoods dedicated to different stages of sampling and extraction. The laboratory employs temperature-controlled incubators for sample digestion under different conditions.
Liquid Chromatography Tandem Mass Spectrometry (LC-MS/MS) analysis is currently undertaken at the Functional Genomics Centre in Zurich, though investment in in-house facilities is under consideration. Data analysis is conducted on dedicated servers with access to a number of bioinformatics tools including MASCOT, Byonic, Scaffold, MaxQuant, and Geneious.
Ayushi Nayak demonstrating our archaeological dental calculus sampling protocol under clean room conditions in the Proteomics Laboratory
Introduction Proteomics Lab - Step 1 – Calculus Sampling from MPI-SHH / Scientific Services on Vimeo.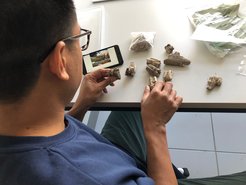 Zooarchaeology and ZooMS (Zooarchaeology by Mass Spectrometry) Laboratories: These laboratories offer facilities for the morphological and biomolecular identification of osteological remains. Our laboratories include some of the only dedicated ZooMS facilities globally, and house a Bruker Autoflex Speed LRF MALDI-TOF Mass Spectrometer, as well as a fully established wet chemistry laboratory for extraction and purification of proteins for peptide mass fingerprinting analyses (ZooMS).
The laboratories also contain equipment for the extraction and amplification of modern reference DNA, enabling improved ability to identify the sequences of new ZooMS markers. In addition to bioinformatics tools employed in the Proteomics Laboratories, the ZooMS laboratory has access to the bioinformatics tools FlexAnalysis, mMass, and R-based MALDI data analysis pipelines. The zooarchaeology laboratories also include facilities for the analysis of osteological (human and faunal) material, including casts of human skeletal material and hominin skulls as well as reference specimens of several primate, carnivore, and ungulate species. We are also collaborating with international museums to make skeletal casts and replicas to further expand our in-house reference collection.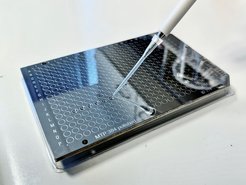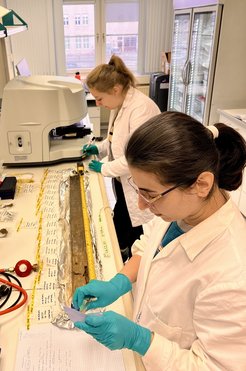 Palaeoecology and Palaeobotany Laboratories: These laboratories include facilities for the investigation of macrobotanical remains as well as phytolith and starch microremains. The laboratories are equipped with a positive-displacement laminar flow hood to provide a contamination-free environment for preparing and analysing ancient samples. The light microscopy section consists of three high-power Olympus microscopes fitted with digital cameras for direct imaging and measurement. A Keyence VHX6000 fully digital microscope possesses a continual magnification range from 10 to 2000x and provides auto-photo correction and stitching. The Keyence has a mobile lens allowing for the microscopic analysis of small artefacts as well as the surface of larger artefacts. The laboratories also include a JEOL InTouch Scope JSM-IT100LA compact SEM with an attached Energy Dispersive X-ray Spectrometer (EDX). The laboratory team is also in the process of developing comparative collections for both micro- and macrobotanical materials, specifically focusing on Asia and Africa. Beyond palaeobotanical applications, researchers use the microscopy facility to study and characterise a variety of archaeological materials, including cultural artefacts, teeth, bone, eggshell, pigments, and dental calculus.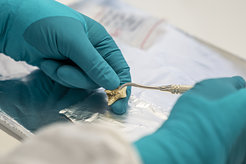 Metabolites and Single Compound Labs: These laboratories undertake several biochemical and isotopic studies, including analyses of 1) lipid residues in archaeological pottery and carbon stable isotope analysis of fatty acids; 2) secondary metabolites in dental calculus and archaeological artefacts; 3) faecal biomarkers from soil and lake biogeochemical records; and 4) carbon and nitrogen stable isotope analysis of single amino acids from both ancient and modern samples. These analytical capabilities are made possible thanks to wet chemistry facilities and sophisticated instrumentation; a Gas Chromatography Mass Spectrometer (Agilent 8890), a liquid chromatography system with a triple quad mass spectrometer (Shimadzu LCMS 8050), and a Gas Chromatography Combustion Isotope Ratio Mass Spectrometer (elementar isoprime visION System).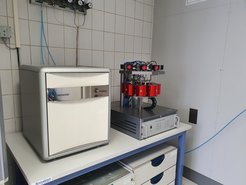 Radiocarbon Laboratory: This laboratory services the different archaeological projects at the MPI-SHH. Fundamental research is undertaken to improve the quality of radiocarbon measurements and expand range of radiocarbon applications. The laboratory is equipped to prepare archaeological bone and charcoal samples for AMS radiocarbon dating. An Ionplus AGE 3 third generation automated graphitisation device is employed for the preparation of graphite targets. Radiocarbon measurements are carried out using an Ionplus MICADAS AMS system through a collaboration with the Max Planck Institute for Biogeochemistry in Jena. The laboratory is also equipped with portable XRF (Niton XL3t - Thermo Fisher) and FTIR (Agilent 4300) instruments. These are used to pre-screen in the lab and in-situ sample preservation and are also made available for use by other institute members.
Archaeological Laboratories and Facilities: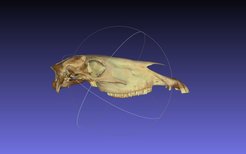 Archaeology and Geoarchaeology Laboratories: These laboratories offer capacities for analysing archaeological materials using traditional and emerging methods. The archaeology laboratory includes bench space for artefact analysis and photography, as well as 3D scanning and 3D morphometric analyses with an Artec Space Spider structured light scanner and a NextEngine 3D laser scanner. The geoarchaeology laboratory is equipped for preparation work for micromorphology, particle size and camsizer analyses, sediment pH/EC/salinity, and magnetic susceptibility. Additional geoarchaeological analyses are conducted in collaboration with existing laboratories at Friedrich Schiller University, Jena.
Archaeology Fieldwork: The Department of Archaeology has ongoing research programmes in numerous regions of the world. It uses cutting-edge digital field recording methods and houses a comprehensive digital archaeological database, ARCHive. Following multiple phases of planning, field testing, feedback, and optimisation, the Department employs a fully digital field recording approach.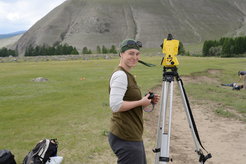 The Department's fieldwork is supported by a range of software and technical equipment. We have one robotic and three manual Leica Total Stations, and five Garmin GPS devices for on-site digital surveys, allowing us to gather high-precision spatial data for sites, features, contexts, and artefacts. In combination with DSLR cameras, we are integrating three aerial drones into field projects to generate high-resolution 3D imagery of our excavations. Linking spatial data with our digital recording system on field tablets and PCs enables us to immediately code all relevant meta-data to each spatial point. All categories of data are searchable in the ARCHive database, which has been developed specifically for the Department's needs. ARCHive is searchable by project, site, date, or any other criterion through a nested structure. This system not only ensures accurate tracking and archiving of samples and data, but is essential for coordinating simultaneous analyses on multiple classes of data across our institute's laboratories. Researchers in the Department are able to rapidly access relevant sample information and related imagery to perform data analysis and interpretation. Integrated digital systems allow for streamlined cataloguing and analysis, resulting in more rapid data production and ultimately shorter times for results to be reported and published.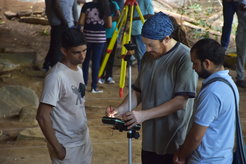 We are enhancing our capacity to conduct analyses in the field through the use of portable FTIR, XRF, and 3D scanning equipment. Being able to conduct rapid field assessments of samples informs ongoing excavations, allowing for more targeted and less destructive collection of richer datasets. These devices also maximise the amount of data collection that can occur in-situ, preventing excessive exports and building capacity in collaborating institutions abroad. Some of our ongoing field projects are pioneering the application of combined digital data collection and analytical procedures in regions of Central Asia and sub-Saharan Africa. As a result, our research in host countries is not only providing new training opportunities, but also generating novel insights into questions of human history that were not possible through more traditional archaeological fieldwork.