Archaeology Fieldwork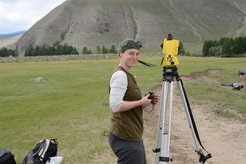 The Department of Archaeology has ongoing research programmes in numerous regions of the world. It uses cutting-edge digital field recording methods and houses a comprehensive digital archaeological database, ARCHive. Following multiple phases of planning, field testing, feedback, and optimisation, the Department employs a fully digital field recording approach.
The Department's fieldwork is supported by a range of software and technical equipment. We have one robotic and three manual Leica Total Stations, and five Garmin GPS devices for on-site digital surveys, allowing us to gather high-precision spatial data for sites, features, contexts, and artefacts. In combination with DSLR cameras, we are integrating three aerial drones into field projects to generate high-resolution 3D imagery of our excavations. Linking spatial data with our digital recording system on field tablets and PCs enables us to immediately code all relevant meta-data to each spatial point. All categories of data are searchable in the ARCHive database, which has been developed specifically for the Department's needs. ARCHive is searchable by project, site, date, or any other criterion through a nested structure. This system not only ensures accurate tracking and archiving of samples and data, but is essential for coordinating simultaneous analyses on multiple classes of data across our institute's laboratories. Researchers in the Department are able to rapidly access relevant sample information and related imagery to perform data analysis and interpretation. Integrated digital systems allow for streamlined cataloguing and analysis, resulting in more rapid data production and ultimately shorter times for results to be reported and published.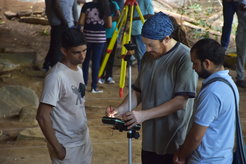 We are enhancing our capacity to conduct analyses in the field through the use of portable FTIR, XRF, and 3D scanning equipment. Being able to conduct rapid field assessments of samples informs ongoing excavations, allowing for more targeted and less destructive collection of richer datasets. These devices also maximise the amount of data collection that can occur in-situ, preventing excessive exports and building capacity in collaborating institutions abroad. Some of our ongoing field projects are pioneering the application of combined digital data collection and analytical procedures in regions of Central Asia and sub-Saharan Africa. As a result, our research in host countries is not only providing new training opportunities, but also generating novel insights into questions of human history that were not possible through more traditional archaeological fieldwork.