Archaeology Fieldwork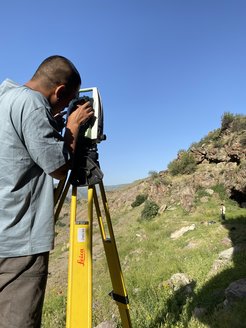 The Department of Archaeology has ongoing research programmes in numerous regions of the world. Cutting-edge digital field recording methods as well as technical equipment enable a fully digital field recording approach. The data is collected in the department's digital archaeological database, ARCHive, which has been developed specifically for the department's needs.
For analytical data collections we provide portable FTIR, XRF, and 3D scanning equipment. This allows for more targeted and less destructive collection of richer datasets in ongoing excavations. We have one robotic and three manual Leica Total Stations, and five Garmin GPS devices for on-site digital surveys, allowing us to gather high-precision spatial data for sites, features, contexts, and artefacts. In combination with DSLR cameras, we are integrating three aerial drones into field projects to generate high-resolution 3D imagery of our excavations. Linking spatial data with our digital recording system on field tablets and PCs enables us to immediately code all relevant meta-data to each spatial point.
Together with our collaborators in the field, we combine digital data collection and analytical procedures to quickly assess information.