Green Arabia Drilling
DA Workshop
Start:

Aug 31, 2017

End:

Sep 1, 2017

Location:

MPI SHH Jena

Room:

Villa V03 and V14

Host:

Department of Archaeology

Contact:

ott@shh.mpg.de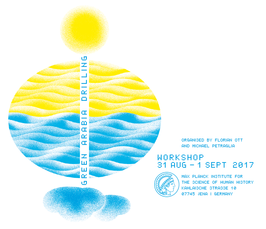 Interdisciplinary research on Quaternary climate and environmental changes and their effects on human dispersals based on sediment cores from the Jubbah palaeolake basin (Saudi Arabia). Organized by Florian Ott and Michael Petraglia.
Max Planck Institute for the Science of Human History, Jena Germany
31 August – 01 September 2017
The first workshop day, Thursday (August 31), is open. The maximum number of attendees is limited to 60 people. Interested people are requested to register no later than 25.08.17 via: ott@shh.mpg.de.
Despite widespread evidence of expanding and shrinking lakes during humid and (hyper-) arid climate periods, respectively, on the Arabian peninsula, little is known about their potential to record past environmental and climatic changes.
This area is furthermore a key region for human migration out of Africa and ideally located to better understand climatic impacts on prehistoric societies. One of the largest mapped palaeolakes on the Arabian Peninsula is the Jubbah basin, located in the Southern Nefud desert. Its rich archaeological history was the key for the successful inscription on the UNCESO World Heritage List and further demonstrates its importance as a stable multi-millennial long human habitat amidst the desert. In 2016 and 2017, within the frame of the Green Arabia Drilling Project, several sediment cores have been obtained from the Jubbah palaeolake basin. The overall objective is to investigate those sediment sequences and address questions about the role of natural forcing in influencing human dispersals. In this workshop we seek to examine the potential of the Jubbah sediment record and how state of the art research methods and protocols can be applied. The workshop will host leading scientists in such fields as chronological dating techniques, sedimentology, geochemistry, palaeoecology, mapping, archaeology and archaeogenetics.