Max Planck Mental Health Awareness Week at the Institute
The Institute will be hosting a variety of events from October 7-10 to bring awareness to these issues, organized by the Mental Health Awareness Week Committee.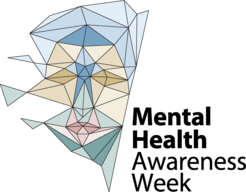 This year, PhDnet launched Mental Health Awareness Week (MHAW), a student-led initiative calling for institutes across the Max Planck Society to take action during the week of International Mental Health Awareness Day (10th October). So far 50+ institutes have signed up to take part.
Members of the Max Planck Institute for the Science of Human History in conjunction with MPI-CE and PhDnet have organized a 4-day program of events to raise awareness of mental health and provide information and support.
Maddy Bleasdale, PhD student in the Department of Archaeology, has written a fantastic blog piece for PhDnet kicking off the week, available here. An excerpt is below.
This year, PhDnet launched Mental Health Awareness Week (MHAW) (7-11th October) encouraging employees of the Max Planck Society to start thinking, talking and engaging with one another about mental health. By raising awareness, we hope to reduce the stigma around mental illness, enabling people to speak openly without fear of judgement, and in doing so, help in creating a healthier work environment.
PhDnet will be releasing a series of videos during the week. Check the MHAW website for more details.
Below is the week's schedule (events in italics are at MPI-CE):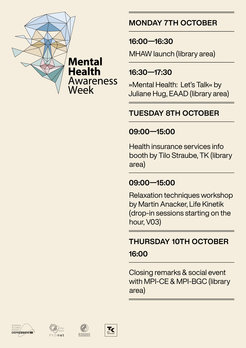 Monday, 7th October 2019
(09:30-14:00 MPI-SHH Hiking Day)
11:00-12:00 - MHAW Launch at MPI-CE: 10 min video "Opening Statement from the MPS Headquarters on mental health". Statement and service from MPI-CE counselor Renate Ellinger and equal opportunity officers. MPI-CE seminar room.
16:00-17:30 - MHAW Launch at MPI-SHH: "Mental Health: Let's Talk" by Juliane Hug from the European Alliance Against Depression. Library.
Tuesday, 8 October 2019
09:00-15:00 - Drop-in TK Health Insurance info booth: Q&A, demonstration of TK app. Library.
09:00-15:00 - Drop-in Relaxation Techniques Workshop by Martin Anacker, Life KinetiK. (Starting on the hour for 35mins) V03.
11:00-12:00 - 45 min video "Mental Health Testimonial from a doctoral researcher: Julian David Rolfes". MPI-CE seminar room.
Wednesday, 9 October 2019
10:00-12:00 - 25 min video "Creating Sustainable Environments for Mental Health and Identity". Panel discussion (5 participants share their experiences with mental health). MPI-CE seminar room.
Thursday, 10 October 2019
11:00-12:00 - 10 min video "Acknowledging Burnout and Taking Time Off in the MPS". 10 min video "EMAP: the new Crisis Hotline Resource for the MPS". MPI-CE seminar room.
16:00+ - Party at MPI-SHH library/terrace.
A special thank you to TK - Techniker Krankenkasse, which provided funding for the "info booth" and the Life Kinetik workshop.