Human Dispersals in the Late Pleistocene - Interdisciplinary Approaches Towards Understanding the Worldwide Expansion of Homo sapiens
Da Conference
Start:

Nov 8, 2016

End:

Nov 10, 2016

Location:

MPI SHH Jena

Room:

Villa V14

Host:

Department of Archaeology

Contact:

weinzierl@shh.mpg.de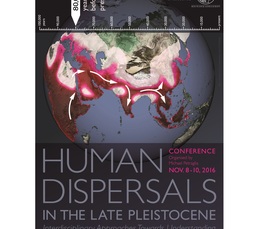 Homo sapiens emerged in Africa approximately 200,000 years ago. The story of our species' subsequent dispersal out of Africa and expansion across the globe remains an enduring and contentious topic in human evolutionary studies. Much debate revolves around the timing, number and routes of major human dispersals out of Africa.
New research in archaeology, genetics and palaeoenvironmental studies is changing our understanding of these processes of early human expansion and migration. Increasing information is being gathered about environmental change in key terrestrial settings across northern and eastern Africa and Eurasia. Fossil, genetic and archaeological research is demonstrating the complicated nature of Out of Africa expansions, inter-species interactions, and human survivorship in changing environments.
The aim of this conference is to examine new information on the relationship between environmental variability, demographic change, and human adaptations, and to explore how these multidisciplinary datasets can be better integrated to more effectively investigate, model and understand early human dispersals.
The new Department of Archaeology at the Max Planck Institute for the Science of Human History in Jena, Germany is dedicated to examining our species' past over the long term and from a multidisciplinary perspective. To celebrate the opening of our Department, we plan to bring together a diverse community of international researchers to discuss, debate and explore our species' evolutionary history.