MPI-SHH Study among the "Top 10 Discoveries of 2020"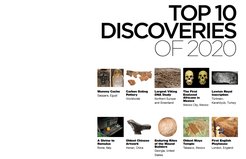 Archaelogy Magazine has selected the study "Origin and health status of first-generation Africans from early colonial Mexico" as one of the ten most exciting archaeological research papers of 2020.
By combining molecular biology, isotope analysis, and bioinformatic tools with classical historical, anthropological, and archaeological evidence, an international research team* led by the Max Planck Institute for the Science of Human History (MPI-SHH) has succeeded in gaining insights into the life histories of three African individuals who died in early colonial Mexico in the 16th century. Their remains were found back in the 1980s in a mass grave on the grounds of the former Hospital Real de San José de los Naturales in Mexico City. Researchers were first intrigued by striking modifications to the individuals' incisors, a cultural practice reported in connection with African slaves and still practiced today among some populations in West Africa.
Members of the 1st generation of enslaved Africans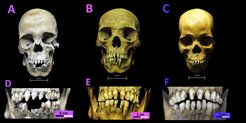 Genetic analysis showed that all three individuals shared a Y-chromosome lineage that is highly prevalent in Sub-Saharan Africa, and which is now the most common lineage among African Americans. Combined with isotopic data showing that all three individuals were born outside of Mexico and osteobiographies showing years of physical abuse before premature death, the findings suggest that these individuals may be among the first Africans to reach the Americas in the 1520s after being abducted from their homelands in Sub-Saharan Africa.
"I am very happy that our work is attracting so much interest, because the lives and deaths of people from historically oppressed groups are still far too often hidden in mass graves," says first author Rodrigo Barquera. "In the future, we hope studies like this will enable us to reconstruct the life stories of individuals in detail, to document the injustice they suffered, but also to make their achievements visible."
---
*The research team consists of researchers from all three departments at the Max Planck Institute for the Science of Human History, the Independent Max Planck Research Group tide - Transmission, Infection, Diversification & Evolution Group, and two laboratories from the National School of Anthropology and History (ENAH), Mexico-City, Mexico