What Sort of Past Does the Future Need? A Webinar and a Virtual-Talk Series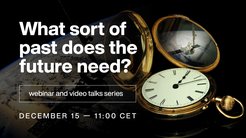 Can history - or studying the past more broadly - help us to cope with the current pandemic? Can it discover ways out of the climatic crisis? How should we who study the past change our approach and become more relevant for the future? What sort of past do we really need to make our future in the Anthropocene at all possible?
These are the questions addressed in a video talk series organised by the Palaeo-Science and History Group at the Max Planck Institute for the Science of Human History together with the Polish Academy of Sciences: the Center for Historical Research in Berlin and the Institute of Philosophy and Sociology in Warsaw. In this series, historians, sociologists and philosophers from Poland, Germany and Austria discuss the shape, role and importance of history in the context of the Anthropocene and the planetary crisis we are facing now.
As the conclusion of the video series, we invite everyone to participate in a webinar-based panel discussion by the speakers and invited guests, during which external participants can ask questions to the panelists via chat. The webinar will take place on Tuesday, December 15th, at 11 am CEST. In order to participate, please register here.
Invited guests: Prof. Frank Adloff (Hamburg), Prof. Ilona Otto (Gratz/PIK Potsdam), Prof. Małgorzata Praczyk (Poznań).
Speakers/authors of video talks: Dr Martin Bauch (GWZO Leipzig), Mgr Lukas Becht (Vienna), Mgr Marcin Fronia (IFiS PAN), Dr hab. Adam Izdebski (MPI SHH Jena), Dr Jakub Muchowski (Kraków).
Introduction: Dr Piotr Filipkowski (CBH Berlin/IFiS PAN).