"What dogs know": DogLab Seeks Participants for Dog Studies
Dog studies have been conducted at the Max Planck Institute for the Science of Human History in Jena since 2016. All studies are in playful scenarios and are based exclusively on observation, giving interested dog owners a chance to learn more about their four-legged friends. Now a new study is planned, for which participants are urgently needed.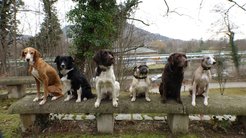 The DogLab's new study is dedicated to the question of how man's best friend works together with his or her owner. Researchers are seeking adult dogs who can be motivated by the prospect of a reward in the form of a "treat" and who feel comfortable in a strange environment with new people. The study comprises four individual sessions, in which the scientists show the dog a new "trick" at the beginning of the session and practice it together. Afterwards, the dog is tested together with its owner. The test appointments last about one hour and are arranged individually. The next appointments are set to begin around mid-May of 2021.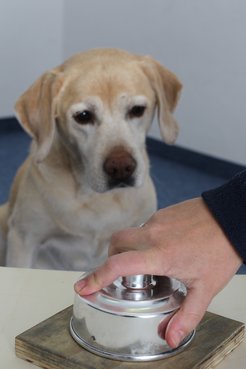 The DogLab generally seeks new participants for the institute's dog studies year-round. For example, dogs that like to use their nose - like hunting dogs - are needed for a further study. Interested owners can have their dogs entered into a database and, if needed, be contacted to find a suitable appointment for the next study.
All studies are based exclusively on observations and conducted in a playful manner, because dogs give their best performance when they're having fun. Researchers share the results following each study and anyone who would like can have access to the test videos and photographs of their own dog.
Interested dog owners can register by e-mailing hundestudien@shh.mpg.de or by calling 03641 686-935. All information about dog studies can be found at: http://doglab.shh.mpg.de/dog-studies_de.php
You can learn more about intelligence studies with dogs and other animals in the books by the head of the DogLab, Dr. Juliane Bräuer:
Was Hunde Wissen (What Dogs Know): https://www.springer.com/de/book/9783662618592
Klüger als wir denken - wozu Tiere fähig sind (Smarter Than We Think: What animals are capable of) - http://www.springer.com/us/book/9783642416