Interview with Clemens Schmid, winner of the DGUF's 2019 Deutscher Studienpreis for Archaeology
Schmid was awarded the prize in June 2019 for his master thesis: "A computer-based cultural evolution model for the propagation dynamics of European Bronze Age burial customs"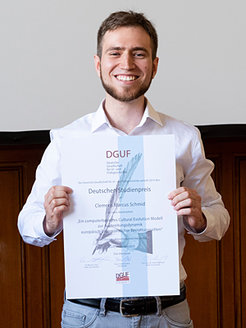 Schmid joined the Department of Archaeogenetics as a PhD student in October 2019, where he is currently conducting research on human mobility and studying the genetic, linguistic, and cultural distances between populations.
Schmid wrote his award-winning thesis while studying at Kiel University.
To learn more about his research, which was described as a "pioneering achievement for the German-speaking world" by Dr. Georg Roth, read Schmid's interview (DE) with the Deutsche Gesellschaft für Ur- und Frühgeschichte.
For more information about the 2019 Deutscher Studienpreis click here (DE)