Another Department of Archaeology post-doc officially starts a museum research position in the United States of America
The Department of Archaeology is proud to extend our congratulations to Dr. Jillian Swift who has recently started a position as Archaeologist at the Bernice Pauahi Bishop Museum, Honolulu, Hawai'i in the United States.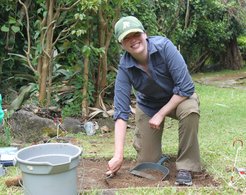 Once again the persistently competitive job market in archaeology and anthropology in the Americas has recognized a talented archaeologist at the Department of Archaeology Max Planck Institute for the Science of Human History by offering a museum research and curatorial position to one of its first hires. Dr. Jillian Swift has taken up the position of Archaeologist at Bishop Museum and will build up an environmental archaeology research program focused on studying the curated collections of the museum and initiating community-engaged field projects in Hawai'i and the Pacific more broadly.
Dr. Jillian Swift joins the prestigious Bishop Museum with more than a decade of research experience in Pacific Archaeology and Anthropology. In her postdoctoral position at the Department of Archaeology in Jena, she developed cutting-edge approaches to the study of human impacts on Pacific Island environments, notably through the stable isotope analysis of rats in a paper published in the Proceedings of the National Academy of Sciences of the United States of America.
In her new position, Dr. Swift will continue to innovate in palaeoecological approaches to human-environment interactions in Hawai'i and elsewhere in Polynesia using little-studied materials that are often overlooked in museum collections. She will continue her tremendous work in bringing archaeology, anthropology, and ecology together in the study of the human past, as well as involving communities in this work – both in the field and the laboratory.
The Department of Archaeology is immensely proud of Dr. Swift and wish her well in the development and application of resources for archaeological science at her new institution.