William Taylor awarded Popejoy Dissertation Prize by University of New Mexico
The award, given annually to recognize the highest level of academic excellence among doctoral students, honors the late Tom L. Popejoy, former President of the University of New Mexico.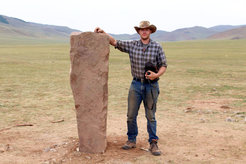 William Taylor, postdoctoral fellow in the Department of Archaeology, has been awarded the Popejoy Dissertation Prize for 2019 by his alma mater, the University of New Mexico. This year, the pool of applicants for the prize included students from the Social Sciences and Education who graduated between Spring 2016 and Fall 2018.
Taylor's prize-winning dissertation, "The Origins of Horse Herding and Riding in the Eastern Steppe," explores the origins of domestic horse husbandry and mounted horseback riding in Mongolia and eastern Eurasia. Drawing upon both existing and newly developed techniques in archaeozoology, equine osteology, 3D scanning, radiocarbon dating, and quantitative analysis, the study presents the first direct evidence for mounted horseback riding in eastern Eurasia. Results demonstrate a tight link between the adoption of horse transport, horse herding, and the initial formation of nomadic pastoral economies, which became the economic engine of later trans-Eurasian empires like Genghis Khan and the Xiongnu. New analytical methods for tracing human activity using equine skeletal remains developed through this research promise to greatly expand archaeological understanding of horse domestication and human-horse relations in both the New and Old Worlds.