Corentin Bochaton awarded the Roger Heim Prize by the Society of Friends of the Muséum national d'Histoire naturelle, France
In December 2018, Corentin Bochaton was awarded the second-annual Roger Heim Prize by the Society of Friends of the Muséum national d'Histoire naturelle, France. The prize is awarded for outstanding early career work by a current or former PhD student of the museum, which focuses on the knowledge and/or preservation of present or past natural diversity.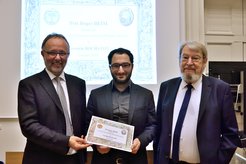 Bochaton was recognized for research he conducted during his time as a PhD student and shortly thereafter, which considerably improved current knowledge of past reptile biodiversity on the Guadeloupe Islands and revealed the overwhelming impact of humans on the islands' reptile population, which was almost entirely wiped out after European colonization. The 3000 euro prize is to finance one or more scientific activities (fieldwork, participation in a conference, purchase of scientific equipment) in relation to his research.
In particular, Bochaton's doctoral dissertation explored the Pleistocene and Holocene diversity of snakes and lizards on the Guadeloupe Islands (French West-Indies) and the interaction of these animals with human populations from pre-Columbian times to the present day.
After the completion of his PhD, Bochaton continued to conduct research in the Caribbean, studying material from other islands and conducting fieldwork in order to further current knowledge about the mostly extinct terrestrial fauna of this region.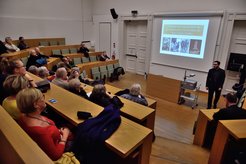 In 2017, Bochaton was awarded a two-year Fyssen Foundation fellowship to join the Department of Archaeology. His postdoctoral research focuses on understanding the subsistence economy of Hoabinhian hunter-gatherer populations in South East Asia between the Late Pleistocene and 3000 years ago, though the zooarchaeological study of reptile remains found in archaeological deposits.