Visit from the Counsellor for Science & Technology of the Indian Embassy in Germany
Mr. Rajachandran Madhan and researchers discussed ongoing projects in India and possibilities for future collaborations.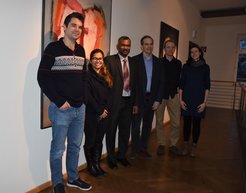 On February 6, 2018, the Counsellor for Science & Technology from the Embassy of India in Berlin, Mr. Rajachandran Madhan, visited the Institute. Mr. Madhan met with Scientific Coordinator Dr. des. Beate Kerpen, Prof. Michael Petraglia, Dr. Patrick Roberts and Ayushi Nayak from the Department of Archaeology, and Dr. Annemarie Verkerk and Dr. Paul Heggarty from the Department of Linguistic and Cultural Evolution to discuss current work in India and the possibilities of establishing bilateral research projects.
The Department of Archaeology's "Biomolecular Prehistory of South Asia" project has been working with several prominent research and higher education institutes in India to apply biomolecular approaches to understand diet, mobility and palaeoenvironments in India. Additionally, the Department of Linguistic and Cultural Evolution has projects exploring both the Indo-European and Dravidian language families with Indian collaborators.
Dr. Roberts noted, "It is brilliant to see the efforts the Indian and German governments are going to to set up collaborative Science and Technology projects and centers between these two nations. I am particularly excited to see how more young students from India might be encouraged to undertake international archaeological science education and research in the future thanks to these growing links."
Dr. Heggarty explained the significance of the visit for his department. "DLCE's research has produced new 'phylochronological' timeframes for the past expansions of all three of India's 'linguistic populations': Dravidian, Indo-Aryan and Munda. The underlying language databases were possible only through collaborations with Indian linguists, so DLCE looks for ever stronger links to improve our coverage and understanding of India's rich linguistic diversity. "
"Given our long-term and on-going research in India, we were quite pleased to have personal interaction with Mr Rajachandran of the Indian Embassy," stated Prof. Petraglia. "Based on what we learned from this rather useful and positive meeting, we are quite hopeful that we can launch additional projects in India in the near future."