MPI SHH Summer School: Doorway to Human Science
The doctoral researchers of the Max Planck Institute for the Science of Human History (MPI-SHH) are happy to present the inaugural session of the summer school: Doorway to Human Science. All graduate and undergraduate students who want to discover new disciplines or expand their knowledge and skillsets are encouraged to apply.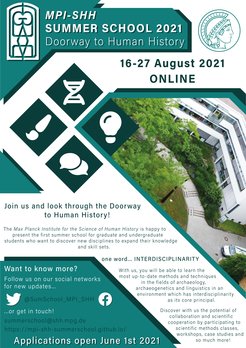 The program includes scientific and soft-skill classes that focus on building skills for interdisciplinary collaboration. Prospective students from a wide range of specialties and interest areas, including archaeology, archaeogenetics, biology, and linguistics, are welcome to apply. The application will open on June 1, 2021 and classes will be held online August 16-27, 2021. Our teachers are mainly doctoral students and will teach you theoretical knowledge about their field, the methods they use, and the soft skills they have developed.
The first week will consist of lectures introducing the main aspects of archaeology and archaeogenetics as well as linguistic and cultural evolution. In the second week, the focus will be on case studies illustrating interdisciplinary projects that combine all three fields in a geographical area (e.g. Southeast Asia). Workshops on scientific methods (e.g., ZooMS, Bayesian phylogenetics) and soft-skill classes (e.g., LaTeX, graphics, research ethics) will be dispersed over the two weeks. In addition, you will hear three invited keynote presentations from distinguished researchers and listen to a round table discussion between three senior scientists from our institute.
To receive course credit for the summer school, you will need to prepare a poster on a topic of interest and present it at our poster session on the last day of school.
Each day will consist of 3-4 classes in the time between 9 am to 5 pm with breaks in between. There will be no parallel sessions so that students are able to attend all offered classes.
The program is rounded off by social events in the evening in which participants can chat with fellow students, teachers, and the organizing team.
For more information about the MPI-SHH Summer School: Doorway to Human Science, contact the organizers at summerschool@shh.mpg.de
Follow us on twitter: @SummerMPISHH