Workshop: Anthropocene. Archaeology of the Present
Researchers from four world-renowned institutions meet at the ancient city of Cahokia to discuss the factors that led to the Anthropocene.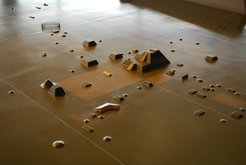 Researchers from the Department of Archaeology at the Max Planck Institute for the Science of Human History have joined forces with researchers from Washington University in St. Louis, the Haus der Kulturen der Welt in Berlin (HKW), and the Max Planck Institute for the History of Science, Berlin (MPIWG). This group of scholars held a collaborative workshop, titled "Anthropocene. Archaeology of the Present," at the Cahokia Mounds State Historic Site just outside St. Louis, Missouri, on March 10. The ancient city of Cahokia was the largest political center in what is now the United States before European contact.
The goal of this workshop was to discuss a series of research projects, ultimately with the intention of better understanding the cultural processes that led up to the Anthropocene. Notably, several scholars in this research team, including Dr. Robert Spengler (MPI-SHH), are looking at the evolutionary processes that led to the domestication of plants, and attempting to identify patterns between different regions.
Researchers from the MPI-SHH are also studying the role that the intensification of maize farming in North America, roughly a millennium ago, may have played in demographic shifts and political changes. Additionally, Dr. William Taylor (MPI-SHH) is looking at the early introduction and spread of European horses into North America and what cultural changes resulted.