Maria Guagnin wins Gerda Henkel Foundation award to study and conserve Saudi Arabian sculptures
The project "Dating and conservation of ancient camel sculptures in northern Saudi Arabia" will last approximately one year.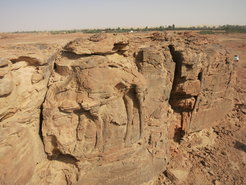 Maria Guagnin of the Department of Archaeology and colleague Guillaume Charloux of the Centre national de la recherche scientifique, France, have been awarded a prestigious Gerda Henkel Foundation award to study and conserve camel sculptures from northern Saudi Arabia. In February 2018, the discovery of stunningly naturalistic rock reliefs of life-sized camels and equids in northern Saudi Arabia was published in the journal Antiquity, and the reliefs have since received international attention and media coverage. To date 12 three-dimensional reliefs are known.
The carvings are unique but share some similarities with animal reliefs known from Petra in Jordan, particularly a procession of camels in the Petra Siq. However, advanced patination and erosion of rock surfaces also suggests an older age, and life-sized two-dimensional representations of camels and equids are also known from the Pre-Neolithic rock art of northwestern Saudi Arabia. The age and archaeological context of the reliefs thus remains unknown.
On all 12 of the reliefs, parts of the animals are missing due to erosion and four reliefs have become detached from the original rock surface and fallen. Initial steps to protect the rock art site (provisionally named "Camel Site") were undertaken by the Saudi Commission for Tourism and National Heritage (SCTH) after an assessment of the site in March 2017.
With their project "Dating and conservation of ancient camel sculptures in northern Saudi Arabia", Guagnin and Charloux propose a program of interdisciplinary research to analyze the sculptures and the prehistoric landscapes they were once a part of. This research primarily aims to establish a chronology for the sculptures, and thus link them to their archaeological context.
Another important element of the research plan is the preparation of a site management and restoration plan to ensure the protection of the sculptures. During the pilot season in October 2018, the researchers will gather chronological data and establish a longer-term strategy of archaeological research in the vicinity of the archaeological site. Their aim is to establish the archaeological context and significance of the Camel Site using a wide range of state of the art scientific methods and technologies, including extensive 3D visualization of the site, archaeological surveys and excavation, OSL and 14C dating, XRF analysis of patina density and rock surface composition, and palaeoenvironmental analyses using remote sensing. In addition, they will work with an experienced stone mason to identify the technologies used in the creation of the site, and to assess ways of protecting and restoring some of the panels that have been damaged by erosion.