A Typical Central European - The Genome of the Architect of the Dresden Frauenkirche Deciphered
A research team from the Max Planck Institute for the Science of Human History and the University of Tübingen examines the genetic material of 18th century German architect George Bähr to learn more about his appearance and health.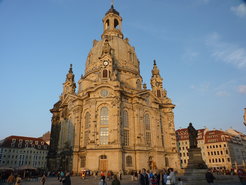 For many historical persons, no portrait, statue or other likeness survives to the present day. This is also the case for George Bähr (1666-1738), the architect and builder of the Dresden Frauenkirche, for whom we do not even have a physical description. During the reconstruction of the Dresden Frauenkirche, which was destroyed during World War II, parts of Bähr's skeleton were found. At the suggestion of the George Bähr Foundation, scientists under the supervision of Professor Johannes Krause of the Max Planck Institute for the Science of Human History and the University of Tübingen examined the remains. They used a method primarily used in paleogenetic lineage research to reveal what could be said about Bähr's appearance and other physical characteristics. A portrait in the ordinary sense cannot be drawn from the results, but the research team has some points to note. Bähr was genetically a typical Central European, with fair skin and probably brown eyes. The study was published in the journal Scientific Reports.
"Our first goal was to make sure that it was actually ancient DNA," says Alexander Peltzer, lead author of the study. The researchers succeeded in doing this by looking for typical damage patterns found in ancient DNA. In addition, they showed that the individual was male and that the samples were free from contamination by other people's DNA.
"From the maternal side, we found the typical gene patterns of Central European origin. Bähr's paternal line, determined by examining the Y chromosome, was found at that time in much of Western Europe, most commonly in the Danube Basin and the Paris region," says Peltzer. "Bähr was a typical European for the time, with no genetic influences from people outside of Europe." The researchers also found about a dozen gene variants, which, according to current reasearch, increase the risk of certain diseases such as diabetes, hypertension and the constriction of the coronary arteries. "Although Bähr lived relatively long for someone living in the 17th and 18th centuries, his genetic disposition may have contributed to his death," says Krause.
For more information in German, please click here.