Rainforest Reliance in the Archaeological Record
Tropical rainforests are some of the most diverse terrestrial environments in the world, yet the extent of past human interaction with these habitats has been debated. In this project we apply stable isotope and dental calculus approaches in order to understand the degree of human rainforest reliance, in different parts of the world and different time periods, and gain more detailed insight into the strategies used by our ancestors to survive in these environments.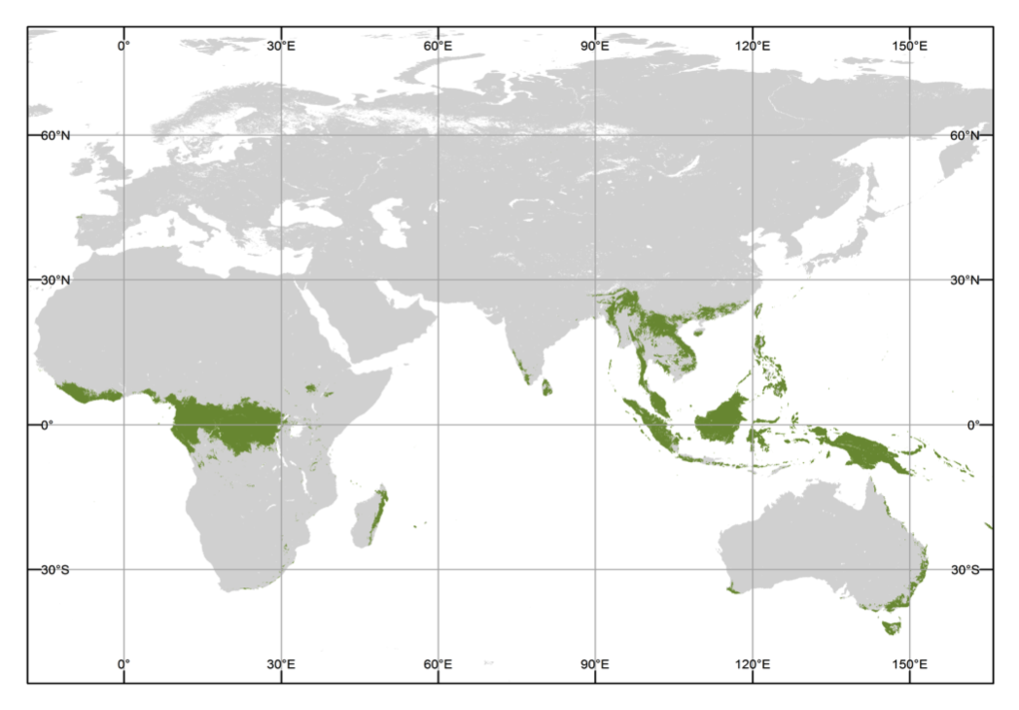 Tropical rainforests have been frequently been considered to be barriers to human foragers and agriculturalists. However, in the last two decades direct evidence for the occupation and use of rainforests by Homo sapiens has quadrupled. New discoveries and re-appraisal of Pleistocene (200-12 ka) archaeological sites in Africa, Southeast Asia, Australasia, and Sri Lanka, have indicated the human occupation of rainforests from c. 45 ka and, more controversially, c. 200 ka. Moreover, some of the earliest evidence for human experimentation with domestication comes from tropical forest settings.
Nevertheless, it has been difficult to determine the extent and nature of human uses of tropical rainforest resources during the Late Pleistocene and the Holocene. The Max Planck Institute for the Science of Human History is seeking to investigate forager and agricultural adaptations to tropical rainforest environments in Late Pleistocene and Holocene Asia, Oceania, and South America, through the use of novel methodologies, including stable isotope analysis and dental calculus, and the development of 'on-site' palaeoenvironmental records associated with records of human behaviour.
One particularly useful method in this regard is the use of stable isotope analysis of human, and associated faunal, tooth enamel and bone collagen (where preserved), in order to reconstruct forest resource reliance of individuals, as well as local palaeoenvironmental contexts. Moreover, dental calculus has the potential to document the plant resources consumed by humans in these habitats. Application of these methodologies in Sri Lanka, Melanesia, and Oceania is a major goal of this project, and seeks to bring to light human rainforest resource reliance in different parts of the globe and during different time periods.
Related Publications
Roberts, P., Petraglia, M.D. 2015. Pleistocene rainforests: barriers or attractive environments for early human foragers? World Archaeology 47: 718-739.
Roberts, P., Boivin, N. & M.D. Petraglia. 2015a. The Sri Lankan 'Microlithic' tradition c. 38,000 to 3000 years ago: Tropical technologies and adaptations of Homo sapiens at the southern edge of Asia. Journal of World Prehistory 29: 69-112.
Roberts, P., Perera, N., Wedage, O., Deraniyagala, S.U., Perera, J., Eregama, S., Gledhill, A., Petraglia, M.D. & J.A. Lee-Thorp. 2015b. Direct evidence for human reliance on rainforest resources in late Pleistocene Sri Lanka. Science 347: 1246-1249.
Roberts, P., Boivin, N., Lee-Thorp, J.A., Petraglia, M. & J. Stock. Tropical forests and the genus Homo. Evolutionary Anthropology, in press.