Rodrigo Barquera Wins 2021 HLA Award
Each year, the European Federation for Immunogenetics (EFI) presents the HLA Award to the authors of the most impactful manuscript, by virtue of citations and downloads, published in the HLA journal in the previous year. The winners are presented with a plaque and a prize of €1000 at the EFI's annual conference.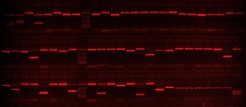 Rodrigo Barquera, a PhD student with the Department of Archaeogenetics at the Max Planck Institute for the Science of Human History, is the first author on the winning manuscript for the 2021 HLA Award, titled "Binding affinities of 438 HLA proteins to complete proteomes of seven pandemic viruses and distributions of strongest and weakest HLA peptide binders in populations worldwide."
In the paper, Barquera and colleagues examine immune responses to seven pandemic viruses (including SARS-CoV 2) in hundreds of populations worldwide by examining the peptide-binding affinities of HLA genes, the genes responsible for immune response. Their findings show that the frequencies of strongest and weakest HLA peptide binders differ significantly among populations from different geographic regions.
"Our findings are highly relevant for both evolutionary genetics and the development of vaccine therapies," says Barquera
Find the open access paper in HLA, the official journal of the European Federation for Immunogenetics, here. For a list of previous HLA Award winners, click here.