Mongolian Archaeological Project Receives 2 Million Euro Arcadia Grant
A new grant to the Department of Archaeology will support the documentation of thousands of threatened sites and construct an open access database in English, Mongolian and Russian.
Archaeological sites in Mongolia face a range of threats, including climate change and looting.  With funding from Arcadia, a charitable fund of Lisbet Rausing and Peter Baldwin, the Max Planck Institute for the Science of Human History is launching the Mongolian Archaeological Project: Surveying the Steppes (MAPSS). Investigators in Mongolia and Germany will use satellite imagery and existing archival material to create a unified, open access database of Mongolian archaeology. 
The Department of Archaeology at the Max Planck Institute for the Science of Human History is pleased to announce it has received a grant of over 2 million euro from Arcadia to document the archaeological heritage of Mongolia. These funds will support MAPSS, the Mongolian Archaeological Project: Surveying the Steppes, over five years.
Mongolia possesses an extraordinary wealth of archaeology. From monumental burials to Buddhist temples, from enigmatic "deer stone" monuments to Genghis Khan's legendary capital city at Karakorum in the middle of the vast open steppe, there is an astonishing range of archaeological sites. Spread across all 21 of the nation's provinces or aimags, an area spanning more than 1.5 million square kilometers, they bear witness to thousands of years of human history and culture. And in their diversity of settings, from the forested river valleys of the Altai Mountains to the arid sand dunes of the Gobi, they show the ingenuity our species – our determination and ability to adapt.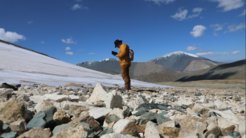 But archaeologists are in a race against time. Sites are disappearing at increasing speed. Many of these ancient sites may disappear before modern science has a chance to recognize their existence. Warming temperatures expose and potentially damage sites that have been preserved in permafrost for thousands of years. Likewise, the expansion of open-pit mining operations and increasingly intensive herd-animal grazing or irrigated farming practices are clearing the surface of many archaeological remains, especially in river valleys. On the open grasslands and arid deserts, where khigirsuurs - elaborate stone burials - characterize the landscape, looting has increased dramatically in recent years. The looting tends to be especially dramatic at the edges of the northern taiga, where archaeological work has been limited, resulting in the loss of an ancient peoples before they can be properly recorded in the history book. The recovered artifacts feed an international black-market trade, which is robbing nations of their ancestry.
Over the next five years, MAPSS will document and assess thousands of archaeological sites and site records in order to compile a large-scale, open access online database of heritage in sites in English, Mongolian and Russian. Using remote sensing methods, including satellite imagery, the team will locate sites and record their size, age, and the level of risk faced from looting and other threats. The team will pull together existing archival data from various sources, including from museum archives and maps. The site record data will be assessed, improved and digitized, and in specific places ground-truthed.
MAPSS' publicly accessible archive will include all research data generated in the project, including survey data, images, plans, 3D models, database entries and webpages. Locational data will not be made provided in cases where it may facilitate looting or other damage to sites. The project has received the blessing of Mongolia's Culture Minister, Dr. Chuluun Sampidondov.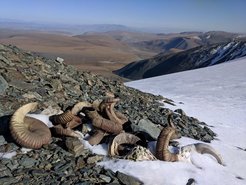 Professor Nicole Boivin, the Project PI and Director of the Department of Archaeology expressed her excitement about the new project: "Our Department has long had strong partnerships with Mongolian archaeologists - I am thrilled to have the opportunity to develop those important connections through this vital project, and grateful to the Arcadia Fund for their extraordinary generosity. We look forward to working with the Mongolian government and Mongolian institutions for the long-term benefit of the country's extraordinary heritage."
Leading Mongolian scholar Dr. Jamransjav Bayarsaikhan is the Archaeology Coordinator for the MAPSS Project, and will be based at the MPI Science of Human History for its duration. He announced: "I am very excited to begin this work, collaborating with colleagues in Mongolia and across the world. Mongolian Archaeology has so much to tell us about human history. It must be preserved and made accessible for future generations."
Other MPI Science of Human History researchers helping to spearhead the project include Professor Michael Petraglia, who brings decades of experience in coordinating arid region satellite imagery and archaeology projects, and Dr. Robert Spengler, an archaeobotanist and regional specialist.
Dr Spengler points out the importance of this international collaboration, stating "this research initiative will make the remarkable history and prehistory of Mongolia accessible to everyone, and it will further scholarly understanding of human adaptation to and occupation of the remote corners of North Asia."
Arcadia (www.arcadiafund.org.uk) is a charitable fund of Lisbet Rausing and Peter Baldwin. It supports charities and scholarly institutions that preserve cultural heritage and the environment. Arcadia also supports projects that promote open access and all of its awards are granted on the condition that any materials produced are made available for free online. Since 2002, Arcadia has awarded more than $770 million to projects around the world.