Barbara Huber awarded Add-on Fellowship for Interdisciplinary Life Science from Joachim Herz Foundation
The fellowship program fosters interdisciplinary skills and supports the careers of young scientists
Barbara Huber, PhD student in the Department of Archaeology at the Max Planck Institute for the Science of Human History has been awarded a two-year Add-on Fellowship for Interdisciplinary Life Science from the Joachim Herz Foundation in Hamburg, Germany. The Joachim Herz Foundation has been awarding fellowships to graduate students and postdocs conducting interdisciplinary research with respect to biological questions since 2015.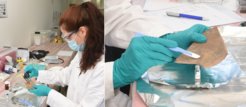 Huber was selected as a 2020 fellow for her project Globalizing scents and spices: The trade and use of aromatic plants in the past, which combines approaches from biochemistry, botany and archaeology to understand the processes of early globalization.
"Although globalization is largely considered a modern phenomenon, ancient societies formed complex trade networks spanning vast distances and exchanged aromatic plants as highly valued commodities," says Huber. "Our knowledge of the trade and consumption of these plants, however, is largely derived from ancient texts and needs ground-truthing through investigation of the material evidence."
By applying biomolecular analysis to organic residues on archaeological artifacts, Huber aims to investigate the movement, usage and role of aromatic plants in the ancient Mediterranean and Near East.
The Add-on fellowship provides funding for international networking events, specialized equipment and interdisciplinary training for a period of two years. Huber plans to use this funding for stays at international biochemistry research facilities where she will receive customized training.
"The fellowship allows me to expand my knowledge in analyzing and identifying plant residues to improve the biomolecular part of my research," says Huber.
The first network meeting for the 2020 cohort of fellows will take place in the beginning of 2021 in Hamburg.
Research Description