Researchers From Germany and the United Kingdom Join Forces to Study the Impacts of Climate Change and Resource Stress on Arctic Ecosystems
The UK's Natural Environment Research Council (NERC) and Germany's Federal Ministry of Education and Research (BMBF) have jointly invested almost £8 million in 12 new projects to carry out crucial research in one of the most inhospitable regions on the planet. The new projects start today and join the existing 'Changing Arctic Ocean' research programme, which aims to better understand – and predict – changes to ecosystems in this part of the world. Dr. Patrick Roberts of the MPI-SHH is a co-lead investigator of one of these 12 projects, LOMVIA. LOMVIA uses biochemical and ecological studies of indigenous and invasive Arctic seabirds to study the local impacts of climate change and resource stress on species composition and competition in this increasingly changeable environment.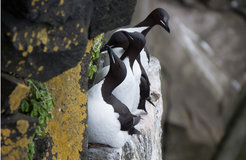 Climate change is having obvious and severe impacts in the Polar Regions. The Arctic is currently warming at more than double the rate of other parts of the globe, causing unprecedented change to the region's ocean environment. The Arctic Ocean's ecosystem is especially sensitive to warming because of its reliance on sea ice, from the algae that grow on its underside to large predatory mammals that hunt and live on its surface.
The impacts of these changes on Arctic marine animals are not just physical, such as warming oceans and the melting of sea ice, but also ecological as changing environments and resource availability effect how different species interact with one another. In particular, rising temperatures mean that the range of temperate species can expand northward and bring them into increasing contact with Arctic species. The newcomers may start to prey on the Arctic species, or outcompete them for food or breeding sites, causing more rapid declines than would occur if climate change acted alone.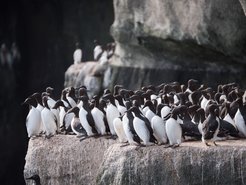 "While many of us are familiar with the blatant impacts of climate change on large, migratory species such as polar bears and whales in the Arctic, we are often less familiar with the changes wrought on the ecological webs of smaller, though no less important, marine animals in these changing environments," says German-based co-lead of Project LOMVIA, Dr. Patrick Roberts. Project LOMVIA seeks to remedy this situation by investigating the impacts of climate change on competition between a pair of closely related seabird species in Iceland. LOMIVA stands for Linking Oceanography and Multi-specific, spatially-Variable Interactions of seabirds and their prey in the Arctic.
As Dr. Norman Ratcliffe, British-based lead of the project at the British Antarctic Survey states, "Guillemots are some of the more iconic seabird species associated by many with Arctic environments. However, few people realize that climate change is bringing true Arctic guillemots, such as Brünnich's guillemot, into ever closer contact with the common guillemot, a temperate species that is found on cliffs all around the United Kingdom and the German island Helgoland."
LOMVIA will study the foraging ecology of these birds around the coast of Iceland. Ratcliffe continues, "Iceland represents a sort of 'miniature' Arctic given its position at the heart of a series of complex current flows, including icy Arctic water from Greenland, warm temperature water from the Atlantic, and subarctic water from Norway." Together these currents influence the entirety of Arctic marine environments, meaning that the study of these two species in Iceland allows for detailed insights into changing resource use and ecological relationships that can be extrapolated across the region.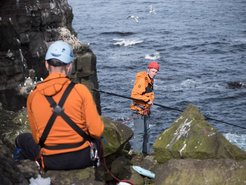 Dr. Thomas Larsen, one of the primary researchers on the project explains how data will be gathered. "Our study will use miniature tracking devices to study where these birds forage. Biochemical analysis of these birds will allow us to find out what they eat there. Together, alongside colony counts made by Icelandic partners, we hope to uncover how trends and distribution relate to habitat availability." Innovative approaches such as the chemical analysis of individual compounds in the tissues of birds will potentially represent a major advance in the study of contemporary Arctic ecosystems.
Roberts concludes, "Climate change is often an ephemeral concept, the consequences of which can be hard for many people to recognize or comprehend, especially beyond obvious examples such as sea ice melt. This project should enable us to gain a more detailed picture of the tangible impacts of human-induced climate change on the food and interactions of species we recognize from our TV screens."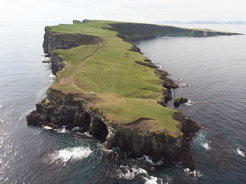 Background:
This project is part of a wider initiative encouraging international collaboration in the study of change in one of the most threatened marine environments on the planet. Breaking down increasing political boundaries, LOMVIA, and the 11 other newly-funded research projects, seek to demonstrate the diversity of effects of global warming on the Arctic Ocean's ecosystems. It is hoped that this new initiative encourages further joint ventures in the detailed study of ecosystems threatened by growing climatic threats in an ever-changing world.
Project link:

https://www.changing-arctic-ocean.ac.uk/project/lomvia/