Fisher-Hunter-Gatherer Adaptations to Climate Change During the African Humid Period
Major episodes of climate change presented novel challenges to the fisher-hunter-gatherer populations of early Holocene Africa. The responses of these societies stimulated early major migrations across the continent, and encouraged the adoption and spread of pastoralism.  This project investigates fisher-hunter-gatherer responses to climate change processes through the Holocene at the site of Lothagam-Lokam in the Lake Turkana Basin of northern Kenya. Our interdisciplinary research project is applying a suite of new archeological and geoarchaeological approaches to understand changing dynamics of human-environmental responses through time, and to understand how those dynamics influenced the long-term resilience of these ancient African societies.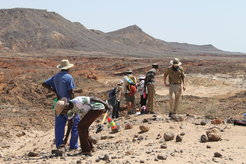 Archaeological research on how past societies responded to climate change is becoming increasingly important as populations across the modern world are striving to cope with the challenges presented by anthropogenic climate change. Extensive paleoclimatic research has demonstrated that the African continent has experienced some of the most rapid climatic changes of the last 12,000 years, and yet the impact of these changes on human societies remains poorly understood. Increased rainfall during the African Humid Period (AHP) fed the expansion of rivers, grasslands, and mega-lakes across much of northern and eastern Africa between c. 12,000-6000 years ago. The fisher-forager societies who thrived during this period would have been forced to radically alter their lifeways as climates rapidly shifted toward extreme aridity. Community level responses to this major transition ultimately depended on the cultural strategies for managing climate change that had accrued through the more subtle shifts during the AHP.
Our excavation project in the Lake Turkana Basin of northern Kenya is focused on the site of Lothagam-Lokam (also known as the Lothagam Fishing Site), which uniquely preserves a sedimentary record for Holocene climate change and occupational horizons that yield evidence for the corresponding human responses. Originally excavated in the mid 1960's by Dr. Lawrence Robbins, Lothagam produced large faunal, lithic, and barbed-bone point collections, making it the type-site for AHP fisher-hunter-gatherers in eastern Africa. Despite this, it has never been well dated or seen comprehensive geoarchaeological research. With a grant from the Wenner-Gren Foundation, our team returned to the site in 2017 with the goal of building a comprehensive chronological and environmental history for the site. We are also re-analyzing the original archaeological material in order to assess how technological or economic change through time may reflect increasing flexibility or rigidity in the face of climatic shifts. Our geological trenches at Lothagam-Lokam hint at a far more dynamic local environmental history than has so far been documented for the region. We have also uncovered a substantial mortuary component of the site that is being destroyed by modern erosion, leading to a major bioarchaeological salvage component of this research. This salvage work is quickly producing one of the largest single-population collections of human remains from this critical time period.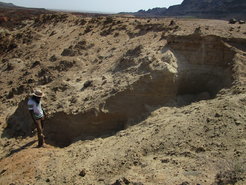 This project is utilizing novel and cutting edge approaches in sedimentology, isotopic analyses, and geochemistry to construct the most detailed record for how large scale climate change affected the Lake Turkana Basin that exists. The presence of human remains at the site is also providing opportunities to apply ancient DNA, stable isotope analyses, and dental calculus studies to investigate the biological dimensions of our research questions. How people responded, or failed to respond, to ancient climate change had major implications for the timing and pace of the spread of food production and for major population migrations, both occurring during the AHP. Perhaps more importantly, this research is critical for advancing out understanding the real impacts of climate change on small-scale populations living around Lake Turkana, and more broadly across eastern Africa.
Related publications:
Goldstein, S.T., Hildebrand, E.A., Storozum, M.J., Sawchuk, E.A. , Lewis, J.E., Ngugi, C., and L.H. Robbins. 2017. New archaeological investigations at the Lothagam Harpoon Site (Lothagam Lokam), Lake Turkana, Kenya. Antiquity: Project Gallery.