Technische Einrichtungen der Abteilung für Archäologie
(nur in englischer Sprache verfügbar)
Isotope Ratio Mass Spectrometry Laboratory
This climate-controlled laboratory is home to two stable isotope ratio mass spectrometers (two Thermo Fisher Scientific GmbH Delta V Advantages) and three peripheral devices for the measurement of stable light isotopes in organic and inorganic materials. The peripheral devices include one elemental analyser (Elemental Analyser Flash 2000) for the combustion of samples and measurement of carbon, nitrogen, and sulphur isotopes in organic samples, one elemental analyser for the measurement of oxygen and hydrogen isotopes in organic samples (HT Conversion EA TC/EA), and a Gas Bench II Interface with AS PAL-GC for the measurement of stable carbon and oxygen isotope in inorganic samples.
In addition, we have an ISOPrime vision System for the compound specific stable carbon and hydrogen measurement of compound specific carbon and hydrogen isotopes in n-alkanes, and other palaeoenvironmental biomarkers, from archaeological, lake, and marine sediments. We have also developed a fully automated extraction set-up for the rapid throughput of sediments and separation of n-alkane, fatty acid, and alkenol fractions. This laboratory also has access to coring equipment for simple test coring of water bodies and archaeological sites for palaeoenvironmental fieldwork.
The stable isotope laboratory has a variety of specialized equipment to aid in the preatreatment of archaeological samples for isotopic analysis. We have a Bruker Fourier-Transform Infrared Spectrometer for the study of sample structure and any potential diagenesis. We also have a MicroMill for the high-resolution sampling of teeth and shell material for sequential stable carbon and oxygen isotope analysis. Finally, ample bench space and other equipment allows for streamlined pretreatment of bone collagen, tooth enamel, shell carbonate, charred plant remains, and modern plant remains for bulk isotope analysis, and the preparation of sediment samples for compound-specific stable isotope analysis.
For any further requires regarding these laboratories please contact Dr. Patrick Roberts (roberts@shh.mpg.de) or Dr. Jana Zech (zech@shh.mpg.de).
Biochemical Archaeology Laboratory
This multidisciplinary laboratory incorporates two different analytical systems, an Agilent 8890 GC-MSD and an UPLC-MS (will be installed January 2020), for analyzing 1) lipid residues in archaeological pottery, 2) faecal biomarkers from soil and lake biogeochemical records, and 3) secondary compounds and metabolites (mostly alkaloids and terpenoids) in ceramics and dental calculus. In addition, the lab is equipped with a GC-C-IRMS system for analyzing compound specific carbon and nitrogen isotopes in amino acids and other nitrogenous compounds using an Agilent GC interfaced with an elementar isoprime visION System.
The biochemical archaeology laboratory also has wet chemistry facilities for preparing both modern and archaeological samples for analysis. Our laboratory is equipped for high throughput sample processing from extraction to derivatization. We offer two workflows for extracting fatty acids alkaloids and terpenoids from ceramic and soil-sediment matrices; one is based on sonication extraction and the other on Pressurized Solvent Extraction for maximizing speed and throughput. Amino acids are extracted from proteinaceous samples with high temperature acid hydrolysis and purified with solvent-solvent extraction and cation exchange resin (if needed).
For any further requires regarding these laboratories please contact Dr. Thomas Larsen (larsen@shh.mpg.de) or Dr. Jana Zech (zech@shh.mpg.de).
Proteomics Laboratory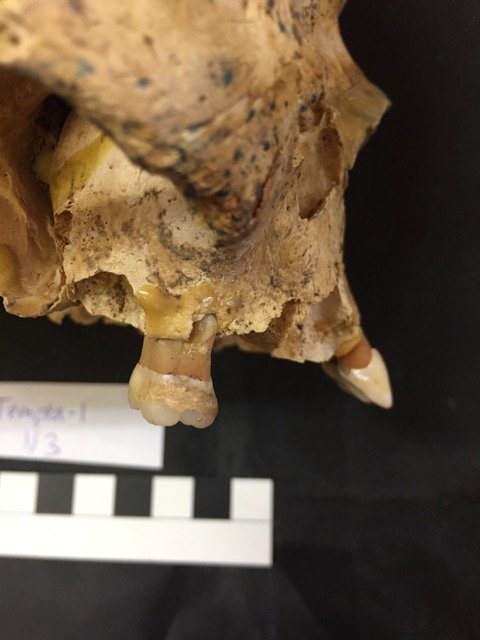 We specialize in the analysis of proteins extracted from a range of archaeological sources, including dental calculus.
We specialize in the analysis of proteins extracted from a range of archaeological sources, including dental calculus.
© Shevan Wilkin
© Shevan Wilkin
The Max Planck Institute for the Science of Human History is home to dedicated laboratories for the extraction of ancient proteins. We specialize in the analysis of proteins extracted from a range of archaeological sources, including bone, dental calculus and artefacts for the investigation of past human diets, diseases and environments. In addition to dedicated clean-room laboratories for protein extraction, our facilities include space and equipment for sample processing and photography, as well as long term storage of samples. For downstream data analysis, we have a range of software packages available, including a dedicated Mascot server. Sampling kits for use in the field by staff and external collaborators are available on request.
ZooMS (Zoology by Mass Spectrometry) Laboratory
The Max Planck Institute for the Science of Human History houses laboratory facilities dedicated to (collagen) peptide mass fingerprinting, also known as Zooarchaeology by Mass Spectrometry (ZooMS). This biomolecular tool enables the rapid taxonomic identification of archaeological bone samples. Our facilities include dedicated space for the extraction of collagen and other proteins from archaeological material, our own in-house Bruker Autoflex MALDI-Tof for spectrometric analyses, as well as space and equipment for sample cataloguing, processing, photography, and the long-term cold and dry storage of samples.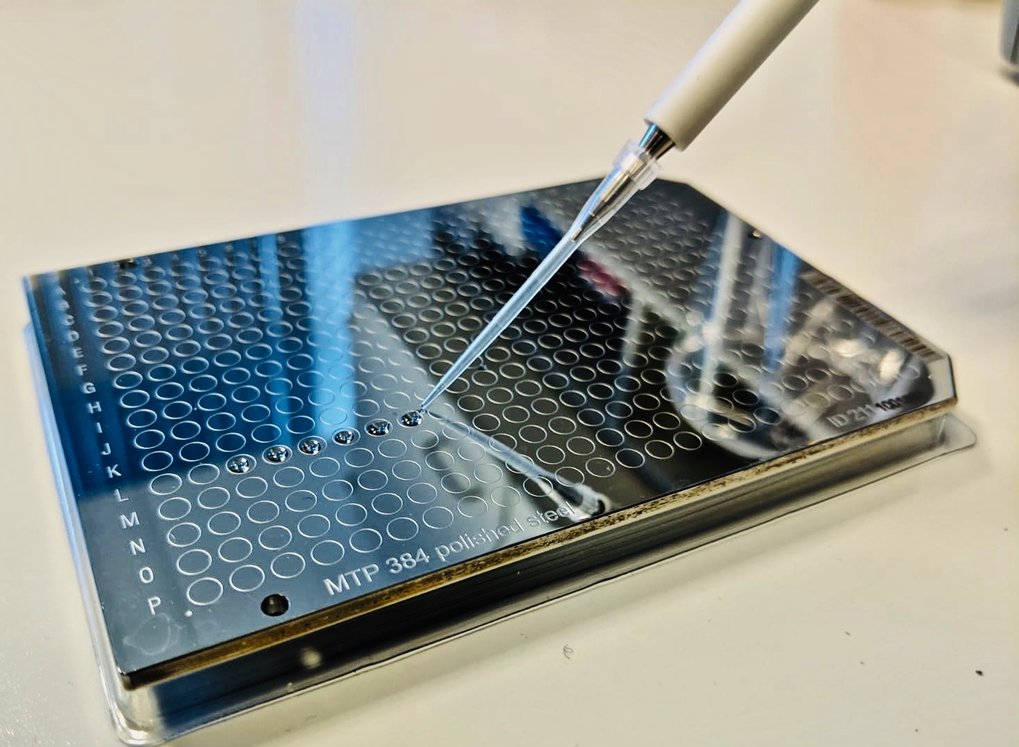 Bild vergrößern
For further information regarding these facilities please contact Dr. Katerina Douka (douka@shh.mpg.de).
Scanning Electron Microscopy Facility
The JEOL InTouch Scope JSM-IT100LA is a compact SEM housed in the vicinity of the other DA laboratories. In addition to inorganic material analysis, this low vacuum, variable voltage (0.5 – 20 kV) model is capable of analyzing organic materials with minimal sample preparation, for example, dental wear analysis, histological analysis of tooth and bone material, plant macro- and micro-fossil analysis. This model also includes a backscattered electron detector (BSED) which allows researchers to visualize relative chemical differences within materials. The SEM is equipped with a JEOL Dry Extra EDS detector with intuitive built-in software, including particle analysis. This EDS has a wide detection range, from Boron to Uranium, allowing for the characterization of major elements. The SEM is also equipped with a 5-axis motor driven stage to allow for 3D morphometric analyses of a wide range of materials.
Finally, the sample and chamber navigation cameras installed as part of the system allow for more accurate analysis and reanalysis of macro and micro scale samples.
Sample preparation is also available on site. Clean bench space is available and there are both gold and carbon coating options for samples with low conductivity.
For any questions about the SEM capabilities or facilities, please contact Dr. Jana Zech (zech@shh.mpg.de).
Macrobotanical Laboratory
The Macrobotanical Laboratory relies on morphological analysis to identify and quantify archaeological remains of plant parts, primarily seeds and fruits, but also other macroscopic plant parts, such as wood, textile and fiber remains, and root, leaf, or floral structures. The lab contains several overhead light microscopes and research stations used by students, post-doctoral researchers, and faculty. The facilities are primarily designed to process archaeological sediment samples that have been sorted through the flotation method in the field. The lab is a clean facility, and does not deal with in house sediment floating. In addition to research, the facilities are designed to foster teaching, and the multiple microscope stations are supplemented by a twin-scope for instruction in small groups and a larger digital monitor to project microscope images onto a screen for group teaching. The laboratory space also houses comparative plant material (mostly desiccated seeds) from across Asia, with a focus on Central Asia. These modern comparative specimens help facilitate the identification of ancient plant remains from archaeological sites spanning the Old World.
For inquiries regarding the Macrobotanical Laboratory, please contact Robert N. Spengler III (spengler@shh.mpg.de).
Microbotanical Laboratory
This facility includes a starch-free clean laboratory for processing and documenting microbotanical remains in dental calculus, sediments and residues. The sample processing area includes a laminar flow hood, autoclave, hot plate and microbalance. Other laboratory equipment comprises of a benchtop bucket centrifuge, a vortexer, a refrigerator and an ultra-sonic bath. Outside of the clean area, we have standard reference plant processing supplies and a plant dehydrator as well as a magnetic stirrer, a drying oven, and hydrometers.
To identify microbotanical remains, we have a range of equipment for optical light and scanning electron microscopy. Our microscopes include 2 Olympus BX53M crosspolarizing transmitted light microscopes, one of which also includes DIC filters and Bertrand lenses for geomorphological and petrographic analyses. We have 2 cameras, which can be used with either microscope; an Olympus DP74, 20.7 Mpx camera and an Olympus SC50, 5Mpx camera. The Olympus software package includes particle analysis, Extended Focal Imaging (EFI) which allows for samples to be quickly and easily imaged fully in focus, and Multiple Image Alignment (MIA) mode which allows for easy acquisition of fully focused panorama images.


For further information on the laboratory, please contact Dr. Alison Crowther (crowther@shh.mpg.de).
Archaeological Facility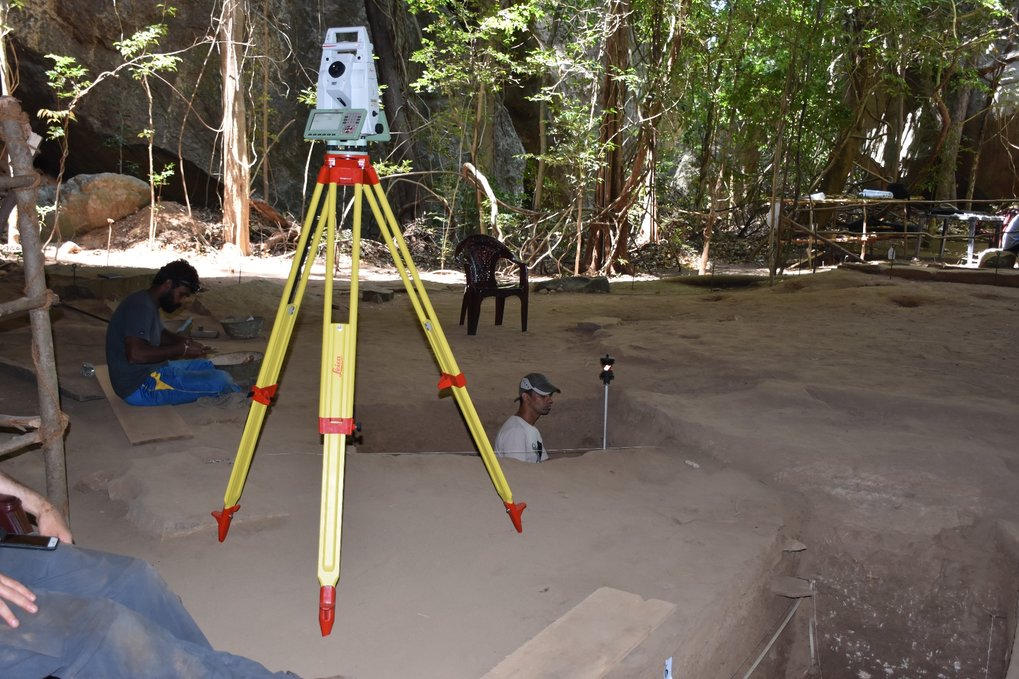 The Department of Archaeology has a range of equipment to facilitate fieldwork, spatial analyses and 3D modelling. The Leica TS16 Robotic Total Station and CS20 Controller enable high resolution survey work to be conducted by either one or two person teams for recording at both site and landscape scale, with the possibility to integrate with GNSS satellite receivers for wider surveys beyond direct lines of sight. The total station is accompanied by a Windows 10 laptop with Leica Infinity software installed for easy data downloads, to examine results in the field, and to export to a range of common formats for CAD or GIS applications. Three Samsung Galaxy Tab S2 8" tablets are available for field recording, with ESRI's Survey123 installed to enable direct digital recording of archaeological contexts. A Zebra ZQ510 rugged portable printer provides the capacity to print barcode labels in the field. A Nikon D750 camera with a wide angle and macro lens offers the ability for full-frame photography suitable for both sites and artefacts. Additional field kit (e.g. digital scales, head torches, USB battery, hand/30m tapes, delicate finds tools) are also available.
The Lithics Lab provides space for artefact studies and hosts the GIS computer. A high-powered desktop computer is dedicated for spatial analysis and photogrammetry, including the use of the Standard Edition of ArcGIS 10.4.1, including Spatial Analyst, and AgiSoft Photoscan Professional edition.
For further information on the laboratory, please contact Prof. Michael Petraglia (petraglia@shh.mpg.de).