DAIRYCULTURES: "Cultures of dairying: gene-culture-microbiome evolution and the ancient invention of dairy foods"
The ERC-funded project DairyCultures will investigate the unique biological and cultural relationships between humans, livestock, and microbes, using Mongolia, a country where a substantial proportion of the rural diet consists of dairy products and where dairying has been practiced for more than 3,500 years, as a model.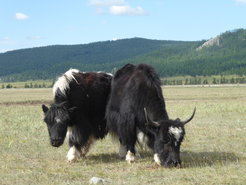 Despite its global economic importance, basic questions about the origins and role of dairying in early human societies are still unanswered. The inability to digest milk sugar, or lactose, in adults is an ancestral human trait and only a few human populations have genetic variants that allow continued milk digestion into adulthood, a trait known as lactase persistence.
However, lactase persistence does not consistently appear in the archaeological record until more than 5,000 years after the origins of dairying and some dairying populations do not have it at all. This has left archaeologists with a puzzling problem, a "milk paradox," regarding how and why ancient peoples developed milk into a dietary resource and what other factors besides lactase persistence may have been involved in this process.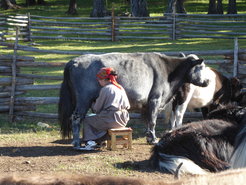 There is now a growing body of evidence that microbes have played important roles in prehistoric dairying. The DairyCultures project, led by Christina Warinner, will use cutting-edge techniques to test, among other things, hypotheses regarding the relationship between the gut microbiome and lactose digestion in Mongolian dairy herders, as well as how dairying arose in Mongolian prehistory.
Microbes on the Move Conference
Microbes on the Move - A Travelling Conference - Mongolia and Kyrgyzstan 2019 from MPI-SHH / Scientific Services on Vimeo.
For millennia, milk products have been a core part of the dietary economy of the Eurasian steppes. After the end of state socialism, millions of people in the countryside again rely on their livestock for survival. All over the region, milk is overwhelmingly produced by family farms, with microbes playing a central role in creating storable long-lasting products.

With an interdisciplinary approach that will bridge the gap between cultural heritage, contemporary economies and microbial biodiversity, this conference will bring together a diverse group of scientists, livestock owners, civil society actors and state employees from Mongolia, Kyrgyzstan, Russia, China and Germany.

Working on past and contemporary dairying in Mongolia and Kyrgyzstan, together we will discuss the archaeology, history and contemporary trends of dairying in the Eurasian steppe. The central aim of the conference is threefold:

First, to foster collaboration between practitioners, civil society organizations and researchers in order to develop protocols to identify and preserve peasant milk microbes and to increase herd health. In light of the growing influence of standardized starter cultures imported from abroad, this will help to protect the dairying variety of the steppes.

Secondly, this project will start an open dialog regarding the preservation of these unique microbial cultures in culture banks. Such preservation will ensure open and continued access to unique starter cultures for future generations.

Third, in light of recent advances in genetics and archaeology, understanding the diversity of modern dairy foods and practices will be instrumental to shed light on the co-evolution of humans and dairying microbes through comparison with archaeological finds.

More information:

dairycultures.org


Related Publications
115 (48), pp. E11248 - E11255 (2018)
Bronze Age population dynamics and the rise of dairy pastoralism on the eastern Eurasian steppe. Proceedings of the National Academy of Sciences of the United States of America